Blogging in 2019 isn't same as it used to be in the pre-2010 era. You can no longer just post content and expect hundreds of thousands of visitors to come to your site every single day in autopilot mode.
Many steps need to be taken up front to bring traffic to your site continually; the most important among them is its vibrant appearance!
Unless your site looks attractive and loads fast, it's almost impossible to achieve constant growth in terms of user engagement and organic traffic. So, leave all other doubts aside and opt for an attractive WordPress theme without any further delay.
Here are 30 such best WordPress themes that have the potential to live up to your expectations. Take a look at them and choose your favorite theme accordingly.
1. Dividend
Regardless of whether you run a magazine-styled blog or a deals website, there is no way you can find a better theme than Dividend. It's attractive, customizable, fully-responsive to mobile devices and light-weight. Shuffle through its multiple layouts and give your site a look that nobody can ignore.
2. Scorn
Are you a freelancer or newly established agency owner looking forward to having a portfolio theme that can help you attractively feature your services? Not sure which theme to select for desired outcomes? If this is something that bothers you, go ahead and give a shot to Scorn — an ideal portfolio theme for agencies and freelancers. It's fully responsive, powered by drag and drop page builder, and comes with a compelling UX to give your site a never-before look without putting much hard work. All you have to do is make changes here and there in images, texts, and colors, and your portfolio website is ready. Try it once and feel the difference.
3. NewsToday
NewsToday is a classic multipurpose theme packed with predefined demos and attractive homepage layout. Since Google gives higher rankings to those sites which take minimum time to load, the development team has made all the necessary changes in NewsToday's codes. It's super fast, clean and appealing. You can use this theme on sites revolving around daily news, tech, sports, entertainment, travel, gaming, and politics.
4. MH Cicero
This theme comes with a flat styled interface and performs well on blogging websites revolving around business, travel, fashion or any similar niche. MH Cicero is fully responsive, loads fast and most importantly enables you to make multiple changes in the homepage design.
5. Elegant
If your goal is to publish high-quality content on your site without focusing much on any other aspect, and you don't want to face any sort of decline in the traffic as well as on-site engagement rate, then go for the Elegant theme without any second thought. It's a minimalistic and multi-purpose WordPress theme packed with attractive typography. Regardless of whether you want to run a portfolio site or a long-term blog or you happen to be a writer, artist, agency owner, designer, etc., this theme is the best option to go ahead with. The elegant theme comes with grid & masonry layouts, image filters and other options to customize homepage and internal pages as per your requirements.
6. Viral
As the name suggests, if you run a blog in the viral niche or a site related to entertainment, jokes or everyday stuff having the potential to go viral overnight, this theme is an ideal solution for you. It's equipped with beautiful graphics, stylish fonts, well-placed social signal buttons, light-weight design and fully responsive to different screen sizes. All in all, it has everything to get you thousands of social signals easily. Give it a try and feel the difference.
7. Organicum
In case you're into healthcare or food recipe niche willing to give your site a look that readers cannot shut eyes to, then Organicum is your best bet in the market. It provides multiple features to improve onsite engagement and social shares without compromising site speed and other factors affecting search engine optimization. Given its astonishing looks, SEO friendliness, fast loading time and mobile responsiveness, you will never have to look for an alternative again.
8. SevenMag
It's one of the most popular WordPress themes in the market, offering the best-in-kind experience to gaming, news, tech review or blogging site owners. Its powerful page builder and advanced pagination options will never disappoint you. Besides, SevenMag is packed with a fully customizable, flexible and responsive design along with support for languages like Hebrew and Arabic to support different demographics. Use this theme once and feel the magic yourself.
9. DigeZine
Are you looking forward to creating a lifestyle or fashion blog or perhaps an entertainment site and searching a dazzling theme that's equipped with all the features needed to capture first-page rankings? Is your goal to spend minimum time on coding and other backend editing stuff? If this is the case, then look no further than DigeZine. This theme is neatly designed and comes with eye-catching layouts coupled with inbuilt social sharing options to ensure maximum possible user engagement. Check out its demo and other details to know how it will look in real-time.
10. Clean
It's an elegant WordPress theme designed for those who wish to develop clutter-free websites. That being said, Clean requires minimal efforts from your side in terms of the homepage and other internal pages setup. Moreover, its multiple customization options ensure that you don't have to look for another alternative despite exploring different niches all at once. Give this theme a shot and fix all the possible issues on your blog regarding user engagement and site speed easily.
11. VideoBox
It's inevitable that video content will rule the world of content marketing and distribution in the coming years. Google, Facebook, and other leading tech companies have confirmed it over and over again. Keeping this fact in mind, if you have already started a site publishing a lot of video content, then VideoBox is the theme you should opt for. It comes with fantastic homepage design, drag & drop feature, in-built social sharing buttons and full support for video sharing sites like Vimeo and YouTube. The VideoBox theme is highly customizable and requires no technical knowledge from your side. Give it a try and feel the difference right away.
12. Pinmaister
If you're in search of a theme that lets you design a beautiful homepage good enough to keep all your readers hooked on to the site for a long time, then Pinmaister is an ideal option to try. In addition to its drag and drop page designing feature, Pinmaister offers unique on-site engagement options, infinite colors, custom widgets, and mobile responsive design. All in all, you will never face any issue after installing this theme on your site, be it about fashion, lifestyle, entertainment, tech, gaming or even personal portfolio blog.
13. Fashion Chic
As the name suggests, Fashion Chic is a leading WordPress site for those professionals who are willing to explore Fashion niche. Just in case you aspire to explore this niche in the near future or have a site revolving around it already, then wait no more before giving Fashion Chic a try. It's packed with lucrative homepage design, multiple category options, good social share buttons and responsiveness for different screens. Overall it offers an irresistible package to have on your site.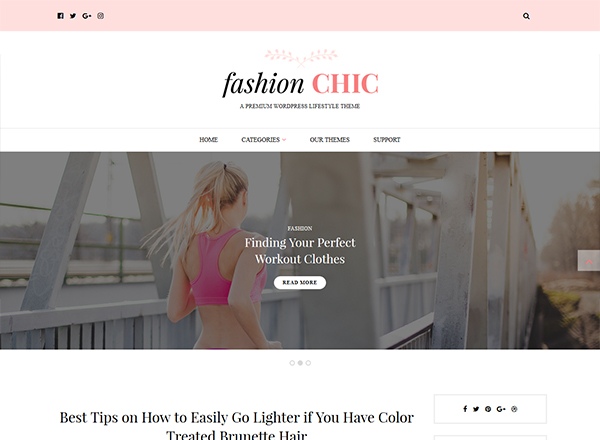 14. Feminine
Another one of those classic WordPress themes that empower you to experiment with the homepage design and keep in check all your girly colors and concepts. Be it a fashion site or a lifestyle blog or a website sharing everyday stuff about females from all around the globe, opt for Feminine WordPress theme straightaway and put all your doubts and hassles to rest. Its customizable page layouts, multiple pagination options and strategically located social share buttons will help you get a lot of share and support on various social media sites.
15. Simple Sense
At a time when the quality of content has started playing a crucial role in getting first page rankings on Google, you cannot keep yourself too busy in backend work. Simple Sense is one of those very few websites available on the internet which will help you fulfill this goal easily. It's minimalistic design coupled with a good homepage layout and eye-catching sidebar allow you to keep primary focus intact on content. Simple Sense theme comes with inbuilt support for Google and third-party advertisements, making it possible for you to increase ad revenue significantly right from day one.
16. Playa
Are you in search of a sunny and vivid design needed to develop a website around a beach club, beach resort, water park or outdoor pool? Not sure how to keep the web design engaging, and SEO friendly at the same time? If this is the case, then take a look at Playa right away. This versatile theme offers many predefined layouts, strategically located portfolio space, WooCommerce support, easy-to-use event calendar and many other unique features to increase user engagement. It's customizable, SEO ready, mobile responsive, and comes with multi-layout pages, powerful admin interface as well as customizable Google map.
17. NovaPress
In case you want to rock 2019 with a viral niche site, then look no further. NovaPress has all the features you might need to create a perfect viral site. Some of its highlights include infinite scroll, responsive grid layout, social sharing buttons, exceptional support for video content and ample space for multiple categories. This WordPress theme clone is inspired by none other than Viral Nova.
18. Petit
Running a food blog or recipe website isn't easy these days. Along with powerful content, you also need a theme that justifies your efforts and increases on-site user engagement. Petit fulfills all these requirements on the back of its responsive and lightweight design, customizable homepage layout and multiple category options.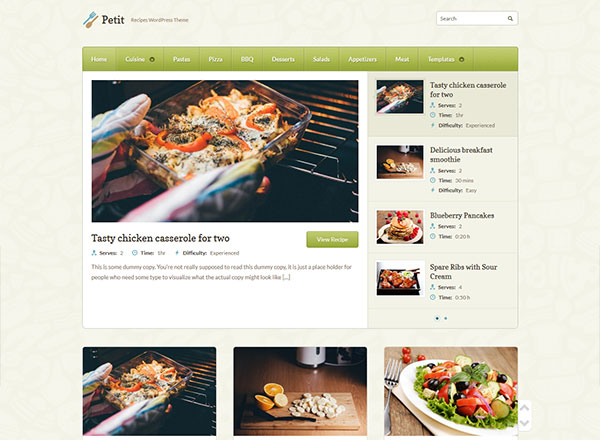 19. The Writer
Probably the best theme for writers, bloggers, product owners and other storytellers who have unique stories to share with millions of users from around the world. If you happen to be one of them, then choose this theme immediately and give wings to your storytelling dreams in a hassle-free manner.
20. Moment
Moment is a perfect theme for those who are looking for a minimalistic theme having attractive homepage designs, masonry layout, multiple article layouts, Jetpack support, SEO ready, and all other features that are needed to make a website successful. If you don't want to scratch your head while resolving continuous coding issues, and at the same time want to enjoy high ranking in Google search results, then go for this clean and light-weight theme right away.
21. BloggingBox
It's one of the leading multipurpose blogging themes powered by tons of customization options, fully responsive design, useful widgets, different layouts for the homepage and overall an incredible performance. Regardless of which niche you wish to explore, this theme will ensure that your efforts aren't wasted in fixing load time, design or any other coding related stuff.
22. Didi
Be it a lifestyle, travel or an entertainment blog or a fashion site that you want to set up this year, go for Didi theme without thinking much. Along with delicate homepage design, unique social share buttons and multiple category options, it also has inbuilt support for WooCommerce just in case you wish to sell products/services on your website. Didi theme is fully responsive to different screens and loads pretty fast.
23. Newsider
As the name suggests, Newsider is a stylish magazine theme that can be installed on blogs revolving around fashion, travel, politics or even food. It is easily installable and customizable. With its admin panel, you can make real-time changes on the homepage as well as other pages easily. A wide array of color combinations and font designs turn Newsider into a non-resistible theme. Install it now on your site to witness the difference it can bring along.
24. Tabloid
One-click installation, feature import, unique design, and responsiveness are some of the features that make Tabloid one of the best magazine styled themes in the market. It's easy to install and comes with a wide range of powerful features good enough to make your site successful. Use it once and put all your doubts regarding site SEO, rankings and mobile responsive design to rest.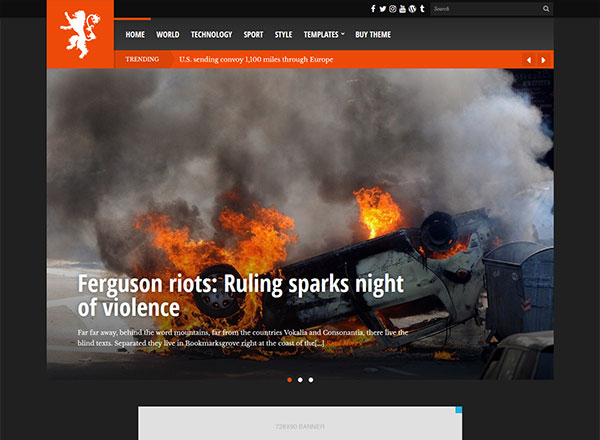 25. Coupon
No matter how many changes the SEO industry went through in the past, coupon niche survived always. There cannot be a better time than 2019 to start a website related to coupons and deals. Coupon theme is specially designed for this purpose. With it, you experience not only fast loading on your site but also a fantastic CTR. Overall, it's the best theme for coupon niche.
26. Pinboard
If you're fond of the design and layout that Pinterest follows, this theme is the perfect option to try. Pinboard is equipped with infinite scroll, auto stacking layout, eye-catching color combination, unique social share buttons, and fully-customizable homepage. This theme works equally well on the desktop as well as mobile screens.
27. Essential Elements
As a fashion, lifestyle, travel or entertainment blogger, you may want to introduce multiple changes to your site so that it can become more engaging, user-friendly and SEO ready. Instead of doing all that manually, go ahead with Essential Elements theme and give the perfect design and appearance to your site. This theme is lightweight, fully-responsive and has many other features that will change your blogging experience completely.
28. MH Joystick
It's a responsive, attractive and highly customizable WordPress theme having pre-loaded features like useful widgets, strategic ad space, enough space for featured posts, editor's choice posted sticky sidebar. MH Joystick works fine on both desktops as well as mobile screens, which means that you can transform your site into a ravishing online gaming magazine and experience huge CTR on various ad campaigns.
29. Builders
There are not many themes available for the construction industry, making it tough for businesses to build a responsive, SEO friendly and eye-catching website. Builders is one of those very few themes that try to fill this void. If you are part of the construction industry and want to design a beautiful site, then select this theme without any second thought.
30. WooShop
Running an e-commerce site in 2019 is easy, but keeping it profitable is tough. The one thing that differentiates sites doing good from the struggling e-commerce ventures is their customer engagement and user-friendliness. If you can make your users feel at ease and give them second to none experience, you'll never have to struggle as a business owner. This is where the WooShop theme can help you do wonders. It's lightweight, SEO ready and fully responsive theme having a wide range of feature and a stunning layout. Give it a try and see astonishing growth in your e-commerce sales and profits.
Make 2019 the best year of your blogging and internet marketing journey. Attract more customers, make more sales and profits than all your past years of operations. It's possible only if your product or service website looks professional and is capable of offering a great experience to users. Select any of the themes mentioned above and make that happen in a hassle-free manner.