Blogging in today's time is not just about writing and publishing content. Your success largely depends on how well you serve your readers by offering them a memorable and distraction-free browsing experience. The more you focus on doing it, the easier it will become for you to scale your blog further. Take the first step in this direction by revamping its design immediately.
What you can do is choose a popular WordPress theme that is equipped with a lot of features to help you deliver the best-in-class experience to your audience. In case you're not sure which theme to opt for, here we have mentioned top 30 WordPress magazine themes that can give any website a professional touch and make it user-friendly. Pay heed to them and select the one that goes well with your site's niche.
1. MagXP
MagXP is an ultimate magazine WordPress theme with multiple unique layouts, 100% responsive design, drag & drop homepage sections, unlimited sidebars, two single post layouts, and clean HTML5. It comes with an integrated review system to help you present any product review post attractively. Go for it and transform your blog's design in a hassle-free way.
2. Feminine
If you write about things that affect women's lives, review products that they use, and cover news about them on your blog, then Feminine is the best magazine WordPress to use. It's lightweight, has a slider homepage layout, offers an eye-catching author section, and loads of other features that will improve your blog's performance, search rankings, and earnings.
3. Public Opinion
Public Opinion is a stunning magazine WordPress theme that can provide a flexible solution for all your publishing-related requirements. It comes with unlimited color variations, multiple category layouts, dedicated advertising space, custom widgets, and exclusive elementor modules to assist you with designing landing pages without any trouble.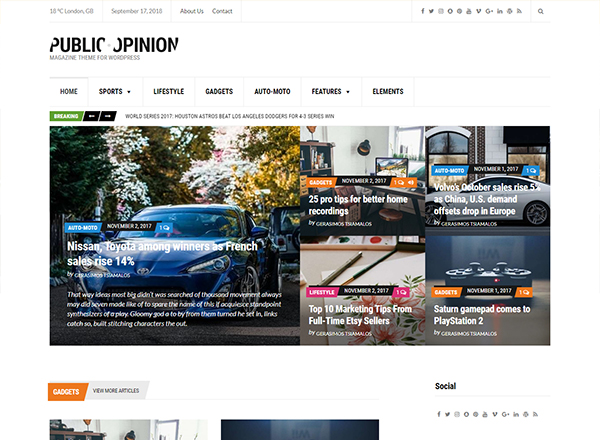 4. SmartZine
Now you can easily create a professional magazine or news website with SmartZine WordPress theme. It's loaded with multiple homepage layouts, full and boxed content sections, flexible sidebars, powerful options panel and formatting settings, premium technical support, and most importantly regular updates to ensure your site remains unaffected from Google algorithm updates. Give it a shot and transform your site's appearance in no time.
5. The Next Mag
The Next Mag by Theme Forest is an ultimate WordPress theme that can give your site the desired professional touch. Its powerful layout and clean design with a host of world-class features create a perfect winning combination to put your website on the first page of Google and other search engines. This theme loads fast and performs well on smartphones, comes with a drag & drop page builder, and offers multiple full-width section modules to give your site a custom look.
6. Tempest
Tempest WordPress theme empowers you to create a fantastic magazine style website or an excellent e-commerce store within moments. It's loaded with unlimited colors, advanced admin panel super powerful plugins, infinite layouts, shortcodes, WooCommerce support, custom image sizes, built-in review systems, impressive typography, and excellent technical assistance.
7. Noozbeat
If you're looking for a theme that can improve your site's layout as well as the ad earnings without much hard work, then Noozbeat is a perfect option to go ahead with. It will make your content stand out from the competition and push it upwards in the search rankings. Moreover, it will ensure that CTR remains high so that you never have to worry about monetizing your site again.
8. Bridge
Do you have a health & wellness or food blog and want to give it a professional touch this year? If yes, then check out Bridge and its impressive features right away. It will ensure that your cornerstone content gets all the attention, and at the same time, you never have to struggle whenever you want to experiment with your site's design. Bridge performs well on small screen devices and delivers top-class results every single time.
9. Responz
Responz is a three column responsive theme for editorial and news publications. Its design is elegant and minimal coupled with visually appealing typography. No matter if your viewers are coming from iPhones, Android smartphones, iPads, Blackberry or desktops, this theme will make your site look great to them. Packed with dozens of world-class features, Responz is easy to install and manage on a day-to-day basis.
10. Monte
Monte is an exquisite magazine-style WordPress theme built especially for fashion bloggers who wish to learn new things and showcase their innovative thinking to users from all around the globe. Its responsive layout, dazzling typography, and pixel-perfect design will give your site a classic touch and make it look amazing on different devices.
11. GreatMag Pro
GreatMag Pro by aThemes is a fantastic WordPress theme that can change completely the way your site performs and looks online. Built on GreatMag's framework, this pro version comes packed with a host of exciting features to take your site's customization to the next level. It's perfect for blogs and digital magazines.
12. Bimber
Bimber by Theme Forest is one of the most popular viral magazine WordPress themes in the world. You can go for it and launch your viral site within a few hours comfortably. Bimber comes bundled with powerful sharing buttons, hot/popular/trending listings, and strategic ad locations among many other innovative features to increase your site traffic and earnings.
13. MagNow
Leverage the content-driven design of MagNow to build a professional magazine website and offer readers a clutter-free experience. You can display multiple articles on its widget-powered homepage using content layouts and change your site's look with the help of powerful customization options. No need to have any technical knowledge for all this. Simply use its options panel and make as many changes as you want in a hassle-free way.
14. Lifestyle
Lifestyle is a perfect WordPress theme for your general or lifestyle niche blog. From a slider homepage to attractive social media sharing buttons, a score of shortcodes, mobile responsive design, and WooCommerce support, this theme has everything that you can think of. Give it a shot and see how quickly it can improve your site's performance.
15. ThemeMin
ThemeMin from Themify is a lightweight, minimal and typography-focused theme that promises to offer fast loading and distraction-free reading. It doesn't use any image except the RSS icon, so you can be assured of lightning-fast speed on both large screen and small screen devices. Try it once and reduce your site's load time without any third-party tool.
16. Doberman
Install Doberman and allow your content to realize its true potential without any extraordinary effort. In short, it's one of the most efficient viral themes in the market and can increase traffic on your site by a significant margin. Some of the features of Doberman include infinite style variations, drag & drop homepage, live editing, custom widgets, search engine ready design, and powerful options panel.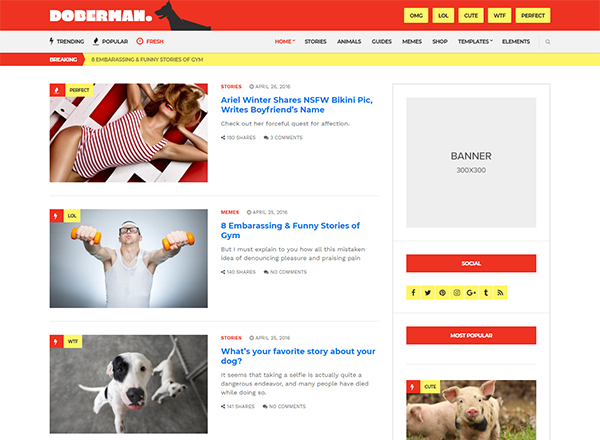 17. BoomBox
BoomBox is viral magazine and community theme used by thousands of websites that aspire to convert their traffic into profitable leads. It features a password strength meter, over six single post templates, sponsored articles section, unique galleries, breadcrumbs, reading time, and much more.
18. Magazine Theme
An elegantly designed WordPress theme with lightning fast speed and clutter-free layout. If your objective is to serve users in a distraction-free environment, then this is the best theme you can come across. You can use it to create a beautiful website as well as WooCommerce powered digital store.
19. Domino Magazine
Domino Magazine by WP Zoom is a highly customizable, multi-functional, elegant, and widget powered WordPress theme having a spacious layout and mobile responsive design. No matter if you have a micro-niche site or a blog covering multiple topics, Domino Magazine will help you achieve desired results conveniently.
20. Amzola
Amzola is a colorful, modern, retina-ready, responsive, and modern UI style theme, exclusively designed for newspapers, technology websites and blogs covering tech, business, sports, politics or any other niche. It features Google localization, powerful theme customizer, clean HTML5 & CSS3, fast loading speed, and custom page templates among dozens of other world-class functions.
21. WordX
WordX is a professional and beautiful WordPress theme for online magazines and blogs that keep on publishing long-form content coupled with HD images on a regular basis. It functions appropriately on mobile devices and offers countless customization options to take your site to all new heights this year.
22. Magazine
Magazine is one of the most efficient WordPress themes available in the market. It comes with a unique homepage design, highly customizable sidebars, strategic ad placement, impressive Google fonts, custom layouts, and much more.
23. Neori
Neori is an elegant magazine and news WordPress theme that makes it incredibly easy to share ideas with the world. It allows you to create custom layouts for maximum user engagement, loads just fine on every device and browser that your readers might be using, features a robust options panel and offers regular updates.
24. Romero
It's undoubtedly one of the most user-friendly, customizable, and advanced magazine themes in the world. Romero is built exclusively for those sites and niches (such as gaming) that use heavy images. It's translation ready, SEO friendly, and has a live customizer to help you in customizing the site layout.
25. ReviewPro
If you publish product review posts, How-To articles, and other long-form content on your blog, then go for the ReviewPro theme without any second thought. It's lightweight, colorful, highly customizable, and can be used on any niche for positive results.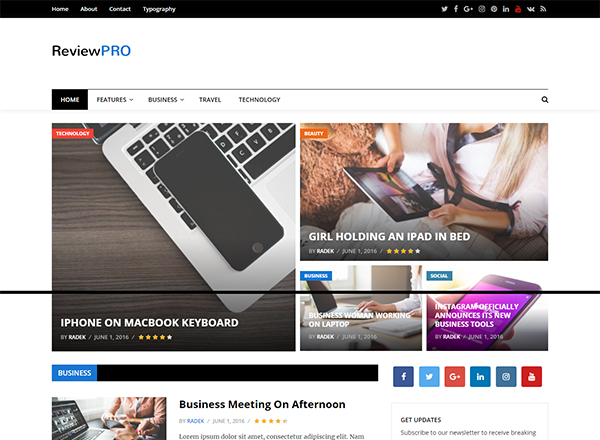 26. EasyMag Pro
If you run an entertainment, sports, lifestyle or multi-niche site that relies mainly on AdSense earnings, then EasyMag Pro is your best bet to increase revenues and create a passive income stream. It's easy to install, comes with a broad range of features, and has the potential to improve your blog's performance over time.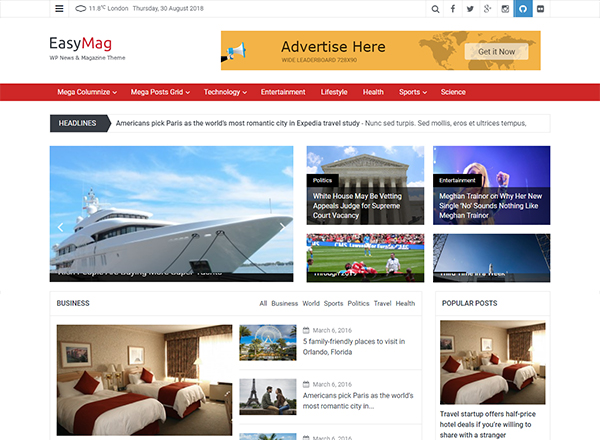 27. Prime News
As the name suggests, Prime News is a perfect WordPress theme for newspaper sites or blogs revolving around breaking news. It is lightweight, easy to use, features highly flexible and customizable sidebars, slider layout, and many other functions to get you desired outcomes without a hitch.
28. FlyMag Pro
FlyMag Pro is a premium magazine theme for news sites. It's bundled with a validated and clean code, multi-browser compatibility, unlimited color choices, custom theme widgets, powerful options panel, and Google localization features.
29. MoneyFlow
MoneyFlow is a modern and professional WordPress theme for those bloggers and digital marketers who are serious about earning money online. It's 100% responsive, search engine optimized, translation ready, mobile friendly, has an awesome design, slider section, and loads quickly on large and small screen devices. Not to mention, MoneyFlow is AdSense optimized, so you'll never have to struggle while placing ads and generating steady revenue.
30. NewsTimes
NewsTimes is another magazine style theme that can transform any website into a superb digital publication good enough to get the attention of tens of thousands of viewers every single day. It's lightweight, easily customizable, and does well on desktops as well as smartphones.
These are the top 30 magazine WordPress themes that can change the way your site looks and performs online. You can opt for any of them and take your blogging journey to the next level without a glitch.